THE HISTORY OF OUR COMPANY
Tracing its roots back to 1935, Insurance Systems Group, Inc. (ISG), was founded by the late Michael Herzak Jr. in Cleveland, Ohio. This agency represented the Motorists Insurance Group and was a charter agency for Grange Insurance Companies, both headquartered in Columbus, Ohio. Now a 3rd Generation company, Insurance Systems is currently led by Michael G. Herzak, President, and his two sons, Vice Presidents Michael G. Herzak II and Daniel C. Herzak.
Throughout its history, Insurance Systems has thrived by focusing on client advocacy and customer experience. It has valued carrier relationships. Its growth has been centered on three principles: exceptionally service our customers, attract new business, and acquire other agencies looking to improve customer experience or perpetuate.
The creation of the Herzak Companies in 2020 has allowed Insurance Systems Group the ability to improve organizational alignment while continuing its growth and expansion.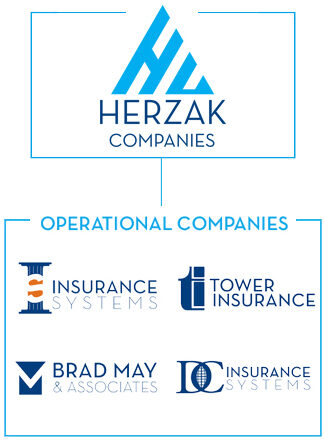 In fact, through a number of acquisitions such as the Beardsley Agency in Warren, Ohio, the DC Insurance Agency in Parma, OH, the Tower Insurance Agencies, Inc. of Brook Park, Ohio, and most recently the Brad May & Associates Agency in Brecksville, OH, Insurance Systems Group positioned itself as one of the larger independent agencies in northeast Ohio.
As an independent agency, we represent many of the finest insurance companies around, both regionally and nationally. We have the ability to search the marketplace to find a qualified program at an affordable price to suit the needs of our clients. Our scope of operations includes commercial and personal insurance as well as life, benefits, bonds, and financial services. Many of our clients need a multitude of services, which ISG can provide. Our commitment is, and has always been, to maintain a client centric focus, providing safe, secure, and cost effective protection for every client.